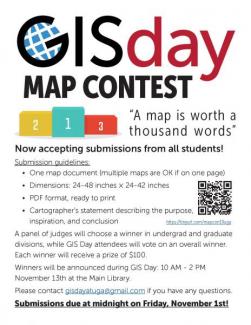 Main Library
Now accepting submissions from all students!
Submission guidelines:
•One map document (multiple maps are OK if on one page)
•Dimensions: 24-48 inches × 24-42 inches
•PDF format, ready to print
•Cartographer's statement describing the purpose, inspiration, and conclusion
A panel of judges will choose a winner in undergrad and graduate divisions, while GIS Day attendees will vote on an overall winner. Each winner will receive a prize of $100.
Winners will be announced during GIS Day: 10 AM - 2 PM November 13th at the Main Library.
Please contact gisdayatuga@gmail.com if you have any questions.
Submissions due at midnight on Friday, November 1st!